The Air Station is famous for its ghosts and has been described as possibly one of the most haunted places in Britain. During the Air Station's initial days as a pilot training facility, an American pilot wrote that there was "a crash every day and a funeral every week". The military grave-stones at the local cemetery, Sleepy Hillock, bear witness to the numerous deaths of those learning to fly at Montrose.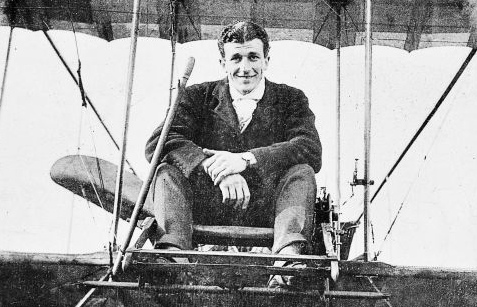 He was the young pilot from the Royal Flying Corps whose ghost is said to haunt the former Angus airfield where the fledgling unit had established Britain's first operational military airfield.
Ever since Lieutenant Desmond Arthur of the Royal Flying Corps was killed in 1913, when his biplane crashed on a training flight at nearby Lunan Bay, his base at Montrose airfield has became one of the 'most haunted' places in Britain.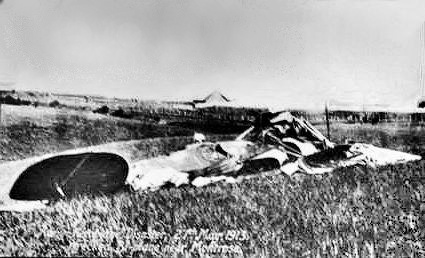 Lt Desmond Arthur's wrecked BE2 lies in the field at Lunan, 27 May 2013
Over the years, there have eyewitness claims of menacing footsteps, mysterious mumbled conversations, ghostly apparitions in First World War flying suits and the sound of a phantom plane flying overhead.
And three years ago Montrose hit the paranormal headlines after an old radio in the airfield's heritage centre - filled with cobwebs and with no power and no aerial - began broadcasting speeches by Winston Churchill and music by the Glenn Miller Orchestra, the Allies' favourite band during the Second World War.
But today it was revealed that the man, said to have started the ghostly sightings and other paranormal phenomena at the base, is to be honoured next Monday at a simple wreath layng ceremony to commemorate the 100th anniversary of his tragic death.
A small party from Montrose Air Station Heritage Centre will lay a wreath on his grave at the town's Sleepyhillock Cemetery.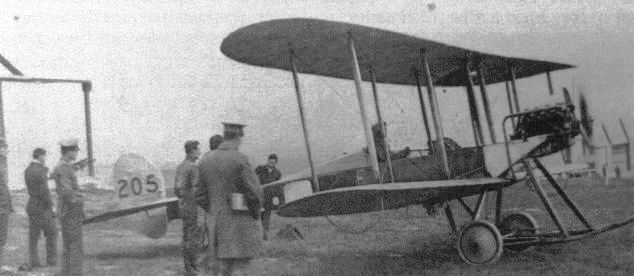 B.E.5 number 205 at Montrose, after the engine change which brought it to B.E.2 configuration.
Dr Dan Paton, the curator of Montrose Air Station Heritage Centre, explained: "We are laying the wreath at the behest of Lt Arthur's family. Lt Arthur was among the earliest of Britain's qualified pilots and the first pilot from No2 Squadron, to die in a flying accident. This simple ceremony on 27 May is a way of commemorating not only his tragic death but also those of the many hundreds of other pilots who flew from Montrose from 1913 onwards and met an untimely end."
He explained: Two years after Lt Desmond Arthur's death, reports began to surface of a ghostly figure at the Air Station. These sightings, which coincided with an official enquiry into whether the aircraft's plunge to the ground was the result of Lt Arthur's recklessness, caused considerable alarm.
"It was as if the spirit of this proud pioneer airman had returned to earth at this slight to his reputation as a skilled pilot. The Court of Enquiry eventually cleared Lt Arthur of blame and, once exonerated, the ghost made one last appearance on Christmas Eve 1916 and then disappeared."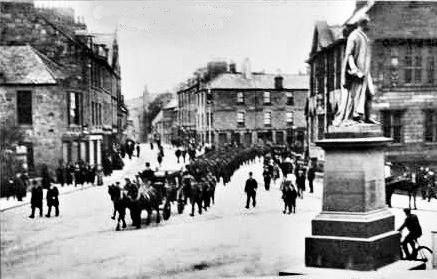 Lt Douglas Arthurs Funeral Procession passes Montrose Library
Reports of ghostly apparitions, however, resurfaced after the Second World War.
Dr Paton said: "Circumstances point to the existence, if that is the word, of many ghostly figures at Montrose, but what firmly re-established Desmond Arthur as the Montrose ghost was an article by Sir Peter Masefield (the aviation journalist and former chairman of the British Airports Authority) in Flight International in December 1972, by which time RAF Montrose had closed.
"In the article Masefield repeated the original story of Lt Arthur's death and the subsequent appearance of his spirit at Montrose but with an important new twist. As Masefield was leaving Dalcross (Inverness airport) he was approached by a man who asked for a lift in the rear seat of his Chipmunk aircraft so he took off with a passenger.
"As the Chipmunk approached Montrose, Masefield was astonished to encounter an ancient biplane flying over the old airfield and to his horror he saw its wing collapse and the pilot fall from the cockpit.
"There was a cry from his passenger but when Masefield turned round there was nobody in the cockpit. Badly shaken, Masefield landed at Montrose, took on petrol and then continued his flight to Brooklands."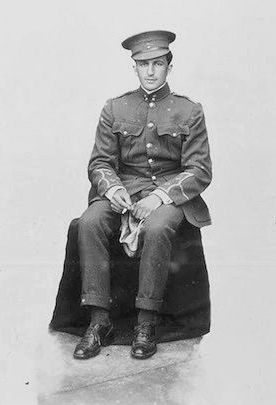 Lt Desmond Arthur"
Dr Paton revealed: "When he went to write up his logbook he saw that the date was 27 May, 1963 - exactly 50 years since Desmond Arthur's fatal accident. He had witnessed a re-enactment of the tragedy."
He added: "Is there a Montrose ghost and is it Desmond Arthur? There are certainly recent sightings of apparitions of men in flying dress which defy rational explanation but we should remember that hundreds of men were killed at Montrose over two World Wars.
"Circumstances point to the existence, if that is the right term, of many ghosts. As far as Lt Arthur is concerned we should go back to the original story. He returned briefly for a purpose and once he was cleared of the blame for the accident he departed. We should let him rest in peace.
"All the same, on Monday, when we lay a wreath on his grave, I will be watching the skies around Montrose."
A spokeswoman for the heritage centre said: "Until recently little was known about Lt Arthur but his great nephew recently provided us with information which gives us a more complete picture of the dashing young pilot.
"One of the most interesting facts is that, following his death, a miniature of a beautiful young woman was found in Lt Arthur's breast pocket. This photograph has now been donated to the Heritage Centre, along with Lt Arthur's diary."
She added: "Dan has discovered that the lady in the photograph and the subject of Lt Arthur's affections was Miss Winsome Ropner from West Hartlepool. According to her great grandson, who has also been in touch with Montrose Air Station, Miss Ropner never forgot Desmond Arthur."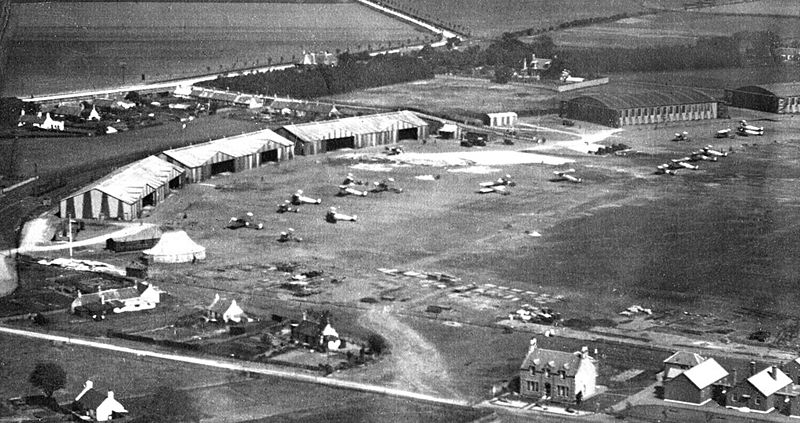 Montrose Airfield, the first operational training base built in Britain for the Royal Flying Corps